2019 Lamp Post Campaign
October 3 – December 1st, 2019
---
Lamp Post Brochure and Map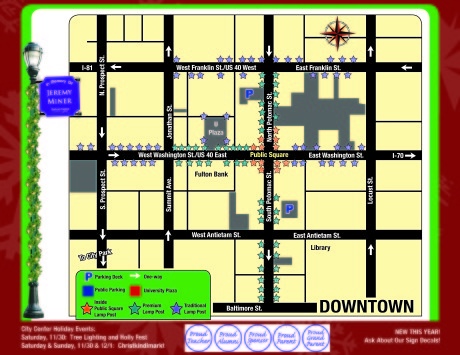 ---
 NEW  logos added to your LAMP POST BANNER this year.
No extra charge. We want to show the community who supports us!
  This year we are celebrating our 10th Anniversary and super excited about our add on to the sign. To sponsor a lamp post, please fill out the form. click here. To choose the perfect downtown location for your banner click hereto see the map. To be able to pay on line for your Lamp Post  click here.
Lamp Post Sponsors:
Public Square:
Season's Greetings from Washington County Government
Merry Christmas from Chick-fil-A Hagerstown
Merry Christmas from Wade Architecture
Merry Christmas from Holcim (US) Inc.
Premium:
In Memory of Jone Bowman
Season's Greetings from Washington County Museum of Fine Arts
Merry Christmas from Schmankerl Stube Bavarian Restaurant
Season's Greetings from Antietam Broadband
Season's Greetings from University System of Maryland at Hagerstown
Merry Christmas from The Bridge of Life
Traditional:
Merry Christmas from St. Mary's Catholic School
Season's Greetings from Big Brothers Big Sisters of Washington County
Merry Christmas from Justin Anderson
Merry Christmas from The Waltersdorf Family
Merry Christmas from The Dickinson Family
Season's Greetings from The Valley Mall
Season's Greetings from The Washington County Art Council