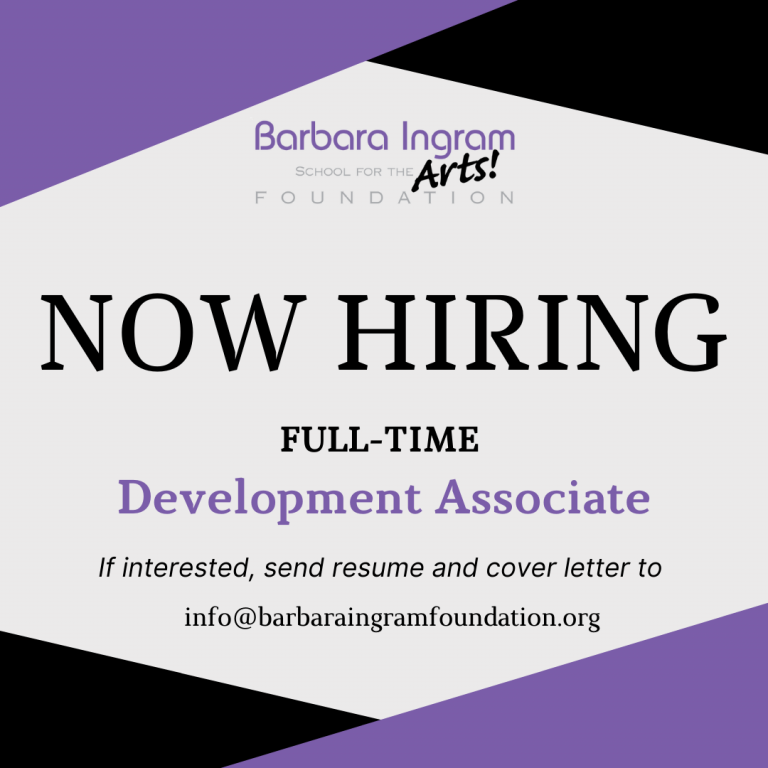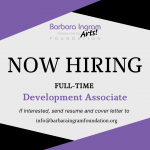 Join Our Team!
Since 2009, the Barbara Ingram School for the Arts Foundation has enhanced the learning experiences for students by providing funds for master classes, enriched arts curriculum, artist-in-residence instructors, access to state-of-the-art instructional materials and technology, and other educational opportunities. In addition, we host a Summer Arts Academy for students grades 1-12 to engage their inner artist. Be a part of this amazing organization by joining our team as a Full Time Development Associate. Monday – Friday, 8AM – 5PM, with remote work availability; free parking; a holiday bonus and great compensation ranging from $45k – $50k to start. Opportunities for priority seating at shows; working with top technology; and supporting our local youth.
See below for more details.
POSITION SUMMARY:
The Development Associate is responsible for assisting in and supporting fundraising operations within the organization. Works closely with the Executive Director of the Barbara Ingram School for the Arts Foundation.
PRIMARY JOB FUNCTIONS:
Responsible for the research, development and maintenance of our database (Charity Engine) for donor records, acknowledgements, reports and profiles.
Prospect corporate, foundation and individual donors
Assist in recording and execution of all Programs (for example Summer Arts Academy)
Assist with the preparation of reports and analysis on campaign activity
Participate in the preparation and execution of fundraising events
Create media and marketing materials
Assist in cultivating and managing a portfolio of donors
Manage all aspects of the website
OTHER JOB FUNCTIONS:
Attend and participate in various professional educational and organizational events
Occasional nights and weekend with advance notice
Participate in identifying and writing grants
Other duties as assigned
MINIMUM SKILLS/EDUCATIONAL REQUIREMENTS:
Prior professional experience in a development, nonprofit or customer-service-related position
Commitment to customer service and ability to interact with wide range of people
Bachelor's degree preferred
Attention to detail and excellent organizational skills
Excellent writing and proofreading skills
Proven critical-thinking skills and ability to work independently
Proficiency with Microsoft Office, Excel, and PowerPoint and experience with integrated database (CRM)
Ability to work some early mornings, evenings and weekends as needed
COMPENSATION:
Full time, Monday-Friday, 8:00am – 5:00pm
Salary range $45,000-$50,000 (based on experience)
Potential remote work
Paid parking
Holiday bonus
TO APPLY:    
Please send your resume, cover letter, and three references to info@barbaraingramfoundation.org.
The deadline for applications is October 15, 2021.