A great opportunity to celebrate the season while supporting the arts!
Each holiday season, in the heart of our City Center, the BISFA Foundation and City of Hagerstown decorate with festive greens, lights, and a sign with your company logo, business, or personal name on an 18″ x 18″ sign, along with one of four greetings:
In Memory of
In Honor of
Season's Greetings
Merry Christmas
The City has 150 numbered lamp posts throughout the downtown area and a number will be assigned when your sponsorship has been received.
Pricing
$400 inside Public Square
$200 Premium
$100 Traditional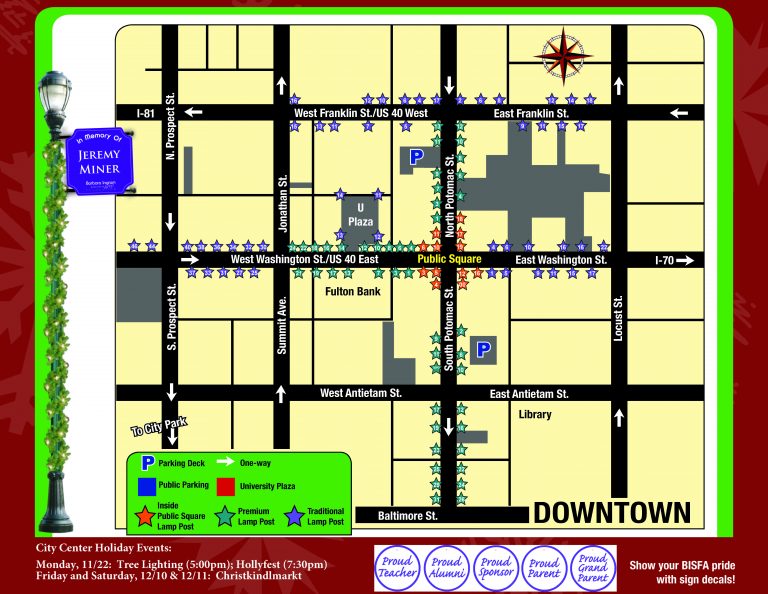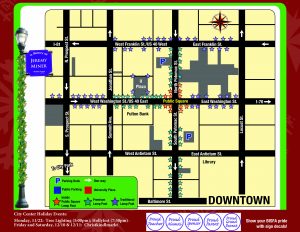 THANK YOU TO OUR CURRENT LAMP POST SPONSORS.
INSIDE PUBLIC SQUARE
Antietam Wealth Management; Joan Bowers & Jerred Brown
Chick-fil-A Hagerstown
In Honor of Roger T. Craig
In Memory of William E. Dawson
The Gamerman Family
Grey Street Digital Marketing
Hadley Farms Bakery
In Memory of William A. Richardson, Sr.
In Memory of James M. Schurz
In Memory of Tyler Shaw
Sloan School of Music
Washington County Government
PREMIUM
Antietam Broadband
Bridge of Life
City of Hagerstown
The Fitzsimmons Family
Julie Fritsch & Mackintosh Realtors
Fulton Bank, N. A.
In Memory of Mr. Vincent Groh
In Memory of Thomas "Gus" Guessford
In Memory of Jane S. Guyton
Jone L. Bowman Family Foundation
Maryland International Film Festival
Maryland Symphony Orchestra
Preit Valley Mall
In Memory of David & Catherine Raymer
In Memory of Nancy & Michael Raymer
Tiger's Eye Benefits Consulting
Washington County Free Library
Washington County Museum of Fine Arts
In Honor of 

Dr. Howard N. Weeks

William G. Bowen, Inc.
The Zuspan Family
TRADITIONAL
Bill Alexander and Family

Justin, Katie, Jack and Maggie Anderson

The Bickford Family

Big Brothers Big Sisters of Washington County, MD, Inc.

Antietam Broadband
The Dickinson Family
Steve & Debbie Hummel
John Wesley United Methodist Church
Kite & Anchor
Claudia & Al Martin
Dawn and Mike McClure
Noel's Fire Protection, LLC
The Ice Cream Shop
The Yarn Shop
S & L Water Solutions
St. Mary's Catholic School
Tiger's Eye Benefits Consulting
Washington County Arts Council